Tropical Visions Video, Inc
was started in 1984 on the Big Island of Hawaii by Mick Kalber.
Major productions have included:
"The Mauna Loa Macadamia Story," a visitor center tour video of the Mauna Loa Macadamia plant in Keaau, Hawaii.
Weekly Kilauea Overflight Update Videos posted to the local, national and international (when warranted) news outlets, Paradise Helicopters blog, Vimeo, FaceBook, and this website.
"Land Rover Mini-Documentaries," a three-part mini doc series for use on the Land Rover website.
"Born of Fire, Born of the Sea," the auditorium presentation of the National Park Service at Hawaii Volcanoes National Park.
"VolcanoScapes," an internationally award-winning eight part series documenting the current 33-year eruption of Kilauea volcano and Hawaii Volcanoes National Park.
"Eyes On Hawaiian Skies," a documentary of the 1991 total solar eclipse.
"Na Hale Mikanele… The Mission Houses," a display video for the Mission Houses Museum in Honolulu.
"Working-Class Women in 20th Century Hawaii," an exhibit video for the Hawaii Committee for the Humanities.
"Portrait of a Sculptor," a promotional video of Big Island artist Henry Bianchini.
"Volcano… Path of Destruction," a Discovery Channel documentary exclusively utilizing Tropical Visions volcano footage.
Additionally, Tropical Visions has helped produce background stories and highlights of Ironman World Championship Triathlon in Kona over the years for ESPN, and a variety of television stations including Germany, Austria and Switzerland.  Additionally, the company has covered the Honolulu arrival of Chinese President Jiang Zimen for Reuters International Television, and the NFL Pro Bowl for ESPN.
In 2014, Tropical Visions released "VolcanoScapes V… Hawaii Volcanoes National Park," the highly acclaimed 90-minute documentary on Hawaii's popular national park.  USGS scientist Jack Lockwood calls this program, "The finest documentary ever done on Hawaii Volcanoes National Park."
2014 saw the release of a long awaited program in the series… VolcanoScapes… Dancing with the Goddess.  Mick Kalber spent over 8 years conceptualizing and producing this show, which  shares the heart felt beauty of living with an active volcano. Those featured have a heart connection to Kilauea volcano. The show features Puna Halau Hula Ka Makani Hali`Ala O Puna under the direction of Kumu Ehulani Stephany, Hawaiian Cultural Adviser Kekuhi Kealiikanakaoleohaililani, and many others who are inspired by and fascinated with this amazing force of nature!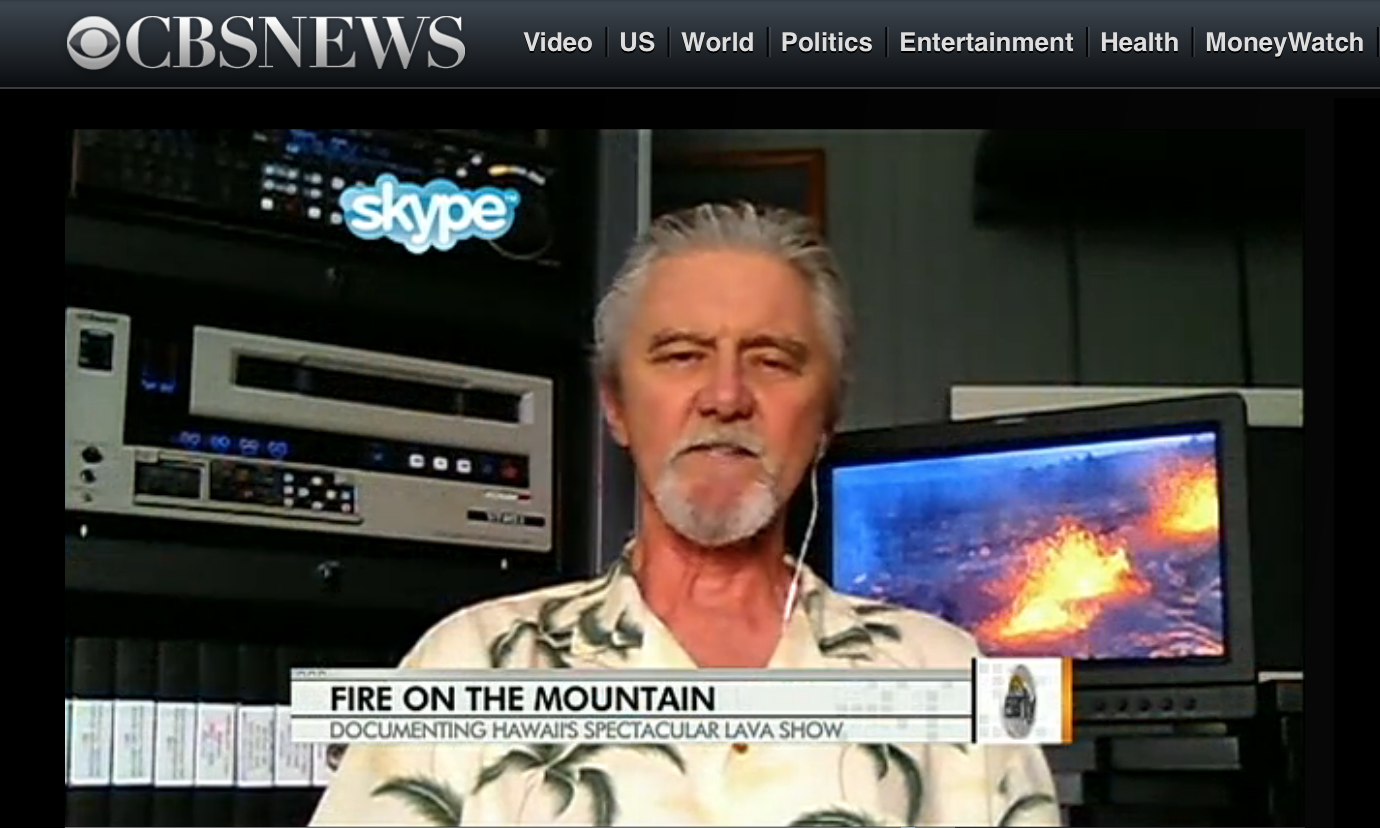 Spectacular lava flows caught on tape.
The Early Show, CBS NEWS November 29, 2011
For nearly 30 years, visitors to the big island of Hawaii have been treated to an incredible lava show.
The Kilauea volcano has been erupting steadily, and stunningly, since 1983. Mick Kalber, a videographer who lives in the shadow of the volcano, has documented nearly three decades of the natural spectacular.